ALBUM HAZAHAV (The Golden Album)
Contains a collection of songs taken from the first six albums (Al Ahavot Shelanu, Bo Nedaber, Petuyim, Hai, Bayt Ham and Adamah) and some tracks not previously released, that are the following ones:
- "Galbi", in a different version
- "Gabriel", the French version of "Gavriel", released in the album "Petuyim"
- "Nous N'irons Plus", a French version of "Manginat Halev", released in the album "Bayt Ham"
- "Fighter", an English version of "Itcha Halaylah", released in the album "Bayt Ham"
- "Fantasy", a song in English released only in this album
There are also three songs released in a new version, with slight differences in the instrumental accompaniment: "Shir Ahavah L'hayyal", "Shir Haphrichah" and "Hageshem", all of them from the album "Al Ahavot Shelanu".
§
MONTREUX JAZZ FESTIVAL
Her only "live" album released. It's in fact a compilation of tracks from "Shirey Teyman", "Shaday" and "Desert Wind". Track list:

1. Im Nin'alu
2. Hilwi
3. Eshal
4. A'salk
5. Taw Shi
6. Fatamorgana
7. Galbi / Wen Esalam / Ayooma
8. Dassa
9. Shaday
10. La Fa La
11. Love Song
12. Ya Ba Ye
13. Kaddish

§

MANGINAT HALEV (Greatest Hits)
This collection of 3 CDs contains 59 tracks, of which 9 have not been released previously. These are the following ones:

- Leorekh Hayam, a live version, with "Elohi" as introduction
- Yerushalaym Shel Zahav
- Latet
- Imru Haykhan Hem Yadiday
- Lo Dibarnu 'Od 'Al Ahavah (duet with Gidy Gov)
- Sh'vil Tapu'ach Ha'zahav
- Im Taqshiv Lagalim
- Arba'yim
- Hashanah Inshallah

The outstanding performance of "Yerushalaym Shel Zahav" is enough reason to have this compilation!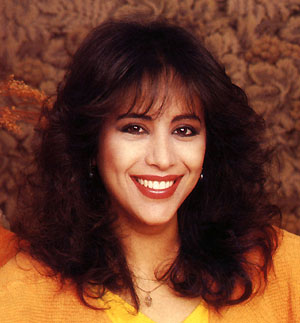 MANGINAT HALEV 2
This collection of 3 CDs was released recently, for the fourth year of her departure. It is composed by 53 tracks, including some previously unreleased songs: the album "Queen in Exile", the beautiful Sephardic song "Shecharchoret" and "Dim'ot Shel Malakhim".

SPECIAL RELEASES:
ALBUM:
There's an album that cannot be classified among the previously mentioned genres: it's "L'YLADIM" - "Songs for Children" It consists in 30 tracks for children, in Hebrew, including Bible teachings for children:
1. Ha'iparon B'rogez
2. Eser Etzba'ot Li
3. Agudal Agudali
4. Yaysh Lanu Tayish
5. Shnayim Sinim
6. Ani Minagen
7. B'nu Gesher Mizahav
8. Bubah Y'mimah
9. Imah Yik'rah Li
10. Abba Saper Li Sipur
11. Pizmon Layakinton
12. Shiri Li Shir Eres
13. Sh'chav B'ni
14. Numi, Numi
15. Mi Yivneh Bayt
16. Havu L'venim
17. Dunam Po V'dunam Sham
18. Mal'u Asamenu Bar
19. Acheynu Hanahag
20. Aytzay Li El Haya'ar
21. Shibolet Basadeh
22. Agadah Al S'fat Yam Kineret
23. Or Chavatzalot
24. Zemer, Zemer Lach
25. Shir Hageshem
26. Panay Hageshem
27. Shnaym Asar Y'rachim
28. Kol Ha'olam Kolo Gesher Tzar Me'od
29. Hayom Yom Shishi
30. L'cha Dodi
SINGLES:
There are many single releases, but I'd like to mention two magnificent ones!
* "The Paint Box", in Hebrew and English, specially done for the ceremony of the Peace Nobel Prize given to Yitzchak Rabin and Shimon Peres.
* "Shir HaMe'ah" ("Song of the Century"), in Hebrew, dedicated to workers.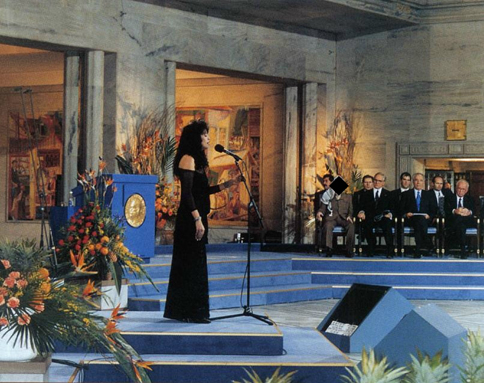 Ofra Haza singing at the ceremony in Oslo for the Peace Nobel Prize given to Yitzchak Rabin and Shimon Peres
DUETS:

* In most songs of the group "Sadnat Teatron Shechunat Hatikvah", Ofrah is the main voice, either alone or in duet with Micha'el Sinvani or Zehavah Tovim, as in the original version of "Halachta", with Zehavah.
* "Hechalil", in "Shirey Moledet 3", duet with Yehudith Ravitz.
* "Aharei Hahagim" , with Avi Toledano (album "Hai")
* "Lo Dibarnu 'Od 'Al Ahavah" , with Gidy Gov (album "Manginat Halev")
* "Irissim" has been sung also in duet with Glykeria
Special duet releases:

* "Jenseits von Liebe", with Stefan Waggershausen, in German and English
* "Freedom" ("-for the World"), with Paul Anka
* "Herida de Miel", with Duncan Dhu, in Spanish
* "Shir Hapisuk", a song performed by Ofrah with the group "Hachaverim Shel Kishkashta"
* "Im Titnu Li Kos Yayin Lehavdalah", performed in the TV show "Shechonat Chaim"
LANGUAGES
Ofrah's main works have been done in Hebrew, Aramaic, Arabic, and lately in English. But she has performed magnificently many songs in other languages:
* Ladino, in two songs of "The Governess"
* The maxi-single in French "Aime Moi", containing two songs: "Aime Moi" and "Les Heros d'un Jour"
The following tracks, originally in Hebrew, have been also released in other languages:
* "T'filah", in French, under the title "Emmene Moi"
* "Hai", in English ("High"), French ("Vas, Vas, Vas") and German ("Frei")
* "Amen Lamilim", also in Arabic
* "Manginot Halev", in French "Nous N'irons Plus"
* "Gavriel", in French
* "Today I'll Pray", in Hebrew and English, contains some phrases in Italian
* "Deliver Us", from "The Prince of Egypt" soundtrack, has been sung by Ofrah in Hebrew, English, French, German, Spanish, Italian, Hungarian, Greek and other nine languages!
VIDEOS:
Ofrah has done many videos and soundtracks for musical animated films:

* "The King and I" - songs by Ofrah Haza:
- Eshrok Li Nigun Aliz (She Pachad Li Ba'lev)
- Shir La'ohavim Tzeirim
- Leitvadea
- Bahalom
- Hanirkod
* "Uz Li Guz Li"
- Boker Tov
- Avoi Avi
- Shir Lamelech
- Shir Eres
Home | Discography 1 | Discography 2 | Discography 3 | | Related Links | Special Thanks / Mail Me